"

The furthest distance we ever travel... is the distance from our head to our heart. "
Who am I?
Growing up in South Florida, Johan Danno's love of music came from his family.  His grandmother, a concert pianist, would have the family singing together every holiday. Paying for Johan's guitar lessons in his teens, Johan feel in love with music, writing music, and in her memory got her last letter tattooed on his arm "Please keep well, keep playing, & Keep loving!"
Developing his sound from his love for Eddie Vedder, Dave Matthews, John Mayer, and Trevor Hall, music and meditation was the medication that changed his life. Selling everything after college and buying a one-way ticket to Australia, Johan returned 8 years later a seasoned live musician that left a budding corporate career to shift the world toward hope and unity through his music!
Let The Music Play...
Ditching his tie for a guitar strap in 2015, Johan started performing 6 covers shows every week on the Gold Coast of Australia to make a living. To help the local scene, Johan created a weekly original music series to showcase local and national acts called 'Live & Local GC' that ran for two years. Working with Who Agency to fine-tune his brand, Johan set out learning how to run the business behind his music as an independent artist.
A songwriter since his teens, Johan did demos until connecting with Byron Bay's internationally recognized songwriter Garrett Kato as his producer. Funding his album through an Indiegogo crowdfunding campaign, Johan booked a multi-city tour across the USA playing Nashville, NYC, Boston, LA, Vegas, and Orlando (most of the cities he had never been to), sponsored in part by Jersey Mikes Subs.
Releasing his first single "Fall in Line" Sept 2016, Johan teamed up with Hollywood icon and local film celebrity Ken Twohy as director for the music video. Returning to Australia for his first Australian tour in 2017, Johan received the recognition of being named "one of the top five songwriters of Australia" by Songs Alive Australia.
Farming, Boston, Google Austin...
Releasing his second single "Fighting For" in mid-2017, Johan teamed up with Australia's premier PR lady Kitty Kitty Bang Bang to get the single premiered on TheMusic.Com.Au. Now on a shoestring budget, Ken Twohy directs the music video for free, citing Johan's "passion, talent, and drive, make any project I can work with him on, always worth my time."
Flying to Oregon and working at the Orekron farm to fund his next tour, Johan then booked a follow-up multi-city US tour. Travelling via trains, buses, and sleeping on floors or couches, Johan moved from playing half cover shows to full original shows.
Performing Daybreaker Festival, Capo Supper Club in Boston, Bowery Electric in NYC, Belcourt Taps in Nashville, the Social in Orlando (where Johan had once promoted Rebelution, Pepper, and Xavier Rudd in college), and Charlotte NC for a fan booked show, the tour was a success. Learning of his music, he was given the opportunity to perform for Google in Austin with a place to stay.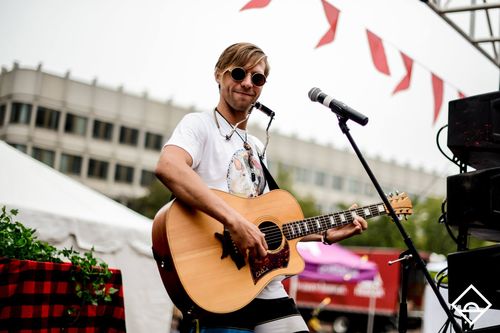 Home Again...
Spending 3 months performing and perfecting his live show in Austin, Johan released his 3rd single "Sunrise" independently along with his debut 4-track EP "Peace and Purpose" in Dec 2017. Creating his own music video from his tour footage and running his own PR, the song was picked up by Youtube, Soundcloud, and Spotify playlists in Europe, UK, Australia, Canada, and the USA. Returning to Florida on a multi-city tour, Johan started performing with a band, performing Pensacola, New Orleans, Delray Beach, Miami, Stuart, and Lauderdale.
Relocating to Jupiter to be with his family, Johan continuously toured and performing live with his band, upgrading to stages and bigger venues. Connecting with Lauderdale based musician Marcus Amaya, they organised and performed a benefit for human trafficking to help the No More Tears foundation. Shortly after, Johan and his band were selected to perform at the Orlando Florida Music Festival.  
Showing no signs of slowing down, Johan released his 4th single "Rescue Me' independently on Aug 2nd. Running his own PR, he received coverage from Born Again Music (UK), Chill Filter (Oregon), Teal Cheese (FL), and B-Side guys. Filming the music video in West Palm Beach and during Johan's show at Voltaire, the video is part of a two-part series, telling the story of Johan's journey to overcome depression.